A house painted black can be so beautiful.  Would you ever paint your house black?  Sure, we've all seen white houses with black shutters, but a black house with white trim, now that is a house exterior to behold as you will see.
THERE ARE REASONS NOT TO PAINT YOUR HOUSE BLACK:
The color black absorbs heat so it is definitely not a color for the southern states, but if living in say, Alaska, well it just might be an added bonus to have your house black to absorb the heat from the sun in winter.  

The color black shows every speck of imperfection, so upkeep could be time-consuming.

People associate the color black on a house with death, evil, and spooky.
These are good common sense arguments for why not to paint your house black.
Not just any house can be painted black.  It has to be a certain kind of structure, like a Victorian house painted black with lots of white trim.
Here is a look at black houses.  See if you don't think at least some of them are stunning.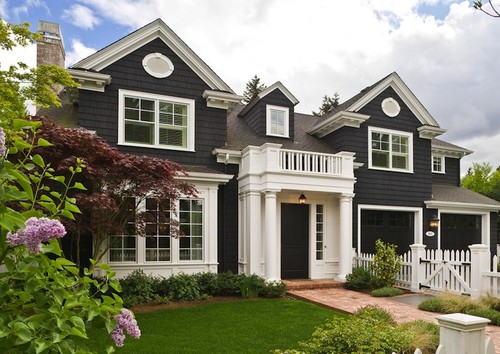 Black paint never looked so good.  This is a beautiful black shingle board house.  
Unusual black house with opposing vertical siding and copper tin roofing.
Amazing black door, black-grey house exterior, and white trim and then, the white roses.  This house is sexy and looks like it has a tuxedo on.
Dramatic black house with red door is a cool contemporary that if not black would otherwise not be so appealing.
This black house with wood trim hides itself in the forest surroundings and has been referred to as "Darth Vadar house; dark and mysterious, with a big character." -Houzz
I am calling this house Jet Black.  I like the modern triangle window and slope of the roof and slick black garage doors.
All black, except the garage door.  Is is spooky or ominous looking?  It could be to some at first glance.  I think it has an exciting attention getting look.
Nothing will frame your black home better than snow.
A classy black beach house.
This is a beautiful custom-built waterfront home wearing Hardieplank Iron Grey and Arctic White trim.

I love, love these dramatic black houses.  Would you ever paint your house black?
For other colored houses other than Black, see Orange Houses and Little Yellow Houses.
I love houses here on Housekaboodle and when I see the destruction…
A storybook designer home, that is what this company calls themselves and…