A Haunted House Dollhouse.  I did not even know such a thing existed until I happened upon Greenleaf Dollhouses where they feature this Haunted House Dollhouse you can buy and spook it up to your delight.  Let your imagination run wild.  Craft sticks for the scary fence were used along with scary furniture.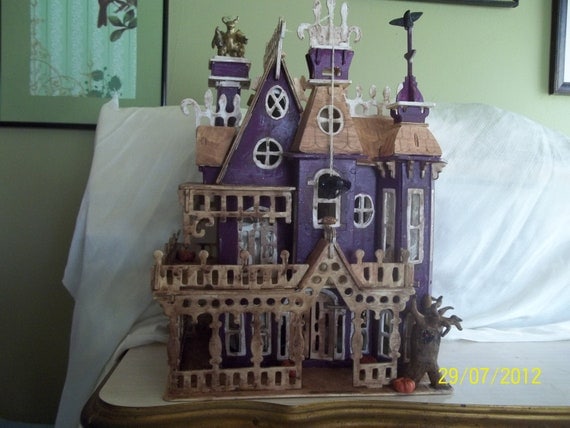 Etsy Shop – LittleAgain
Then, I found a Haunted House Dollhouse on Etsy that shows to be sold, but here is a spooktacular look at it for fun.
But then I read about Jenny Lawson, The Bloggess, who has been building a haunted dollhouse for 11 years or so, where she has filled the house with many items referring to scary books and movies, and also fantasy items like a fairy or ruby red slippers from the Wizard of Oz.  This is "an attic holding imps and forgotten pieces.  A dragon has a singing lesson, as Hedwig and the thing in the mirror look on."
"Things on the table…a gun with silver bullets, two crucifixes, wolfsbane, a hand-mirror for spotting vampires, Ichabod Crane's glasses and assorted potions."
I vote her Best Haunted House Dollhouse award.  To see more of Jenny Lawson's haunted house click Kirtsy.com for a slide show, and her haunted house dollhouse was also featured on HGTV.
Have a Booriffic week.
Sources: Greenleaf Dollhouses
                  Jenny Lawson, The Bloggess and Kirtsy.com – as above
A Silly Ghost Hunt and Witches Haunted House The haunted house -…
Happy Halloween Everyone Enjoy this haunted house video.