Bedroom Ideas by Interior Designers in Turquoise
Bedroom ideas by stylish interior designers who have created incredible turquoise bedrooms.  LOVE these bedroom ideas drenched in turquoise.  This color walks into a bedrooom and says pick me!  Turquoise is the happiest color on the spectrum and these bedroom ideas do not disappoint me.  Ultra bright and cheerful, but at the same time as in the first bedroom below, elegant!
The bedroom ideas are Eclectic, Contemporary, Mediterranean and Traditional as described by their interior designers.  I also included a bedroom designed by my sister I featured in a previous bedroom design idea post.
These bedroom are from Houzz.  The first bedroom grabbed me and I can't let go.  It's from a Southern Living Idea House.  Luxurious, high-end, timeless elegance, and filled with custom furnishings.  A perfect balance as are all the bedroom ideas.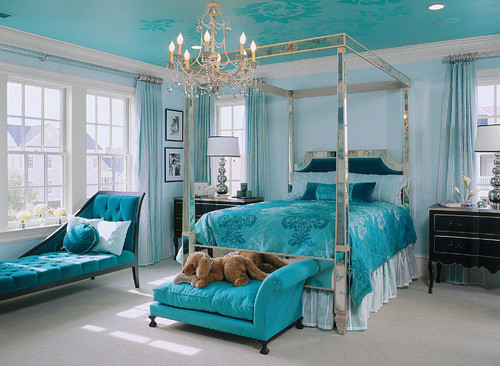 LOVE the mirrored bed frame trimmed in gold that matches the silver and gold chandelier and silver curtain rod.  So unexpected. 

This is custom stenciling and faux finishing, per the designer.
Eclectic Bedroom by Charleston Interior Designers & Decorators Margaret Donaldson Interiors
Contemporary Kids by San Francisco Interior Designers & Decorators Melanie Coddington.  
Perfect mix of pattern, texture and bedroom color.  Per the designer, painted in San Clemente Teal 730 by Benjamin Moore.  The chair is from and upholstered by Jonathan Adler.  Lamp is from Shine shinebysho.com 
Mediterranean Kids by San Francisco Interior Designers & Decorators Melanie Coddington, Photo by David Livingston.
Turquoise and white never looked so elegant.  The desk and chest are custom designed, the chair is vintage and refinished.
Traditional Bedroom by Santa Monica Interior Designers & Decorators Cynthia Marks – Interiors.  
All custom including the fabrics.  Contact the designer if you live in the Los Angeles area.
Traditional Kids by Dallas Interior Designers & Decorators Laurie S Woods, ASID
Such a happy fun child's room to have.  The rainbow bed ruffle is custom made.
Contemporary Bedroom by Other Metro Interior Designers & Decorators Robin Gonzales Interiors
A turquoise forest on the wall with red birds would make any girl happy to be home.
Traditional Bedroom by Adelaide Interior Designers & Decorators Agatha O House of Design
This bedroom interior design is about color and how it affects our emotions.  I could not agree more.  I am more passionate about turquoise now than ever. Called traditional by the designer, I call it vintage.  Gold is in the mix with turquoise again.  Gold bed frame and gold trim on the dressing table not to mention everything else.  I have always had a soft spot for patchwork quilts and french chairs.
Head over to see more about this DIY girls bedroom in turquoise here.
Click the photos to see more about these bedrooms.