Colorful Cottage Decorating Ideas in red,yellow,blue,black & white
Colorful cottage decorating ideas in red, yellow, blue, black and white is a bright yellow 1920s cottage in Florida called Dear Daisy Cottage, a blog of the same name.  It is a bungalow decorated cottage style in bright happy colors.  The owner of the cottage is Kim McCole who is featured on Houzz in an interview by Adi Tatarko
"Combining her love for colors, unique vintage goods and shop thrifting, Kim was able not just to create a warm and beautiful home for her family, but also to inspire thousands of readers as well as many magazines that fell in love with her lovely daisy cottage."  She also said her favorite colors are red and yellow and that they lift her spirits and she feels energized when surrounded by them.
I could not agree more.  The first time I laid on eyes on her yellow bungalow I had cottage decorating ideas dancing in my head.
So many colors and items yet it does not look cluttered.  The table height and color of red in the yellow room together are stunning, grounded by the black chair fabric and adorable black heart pillow.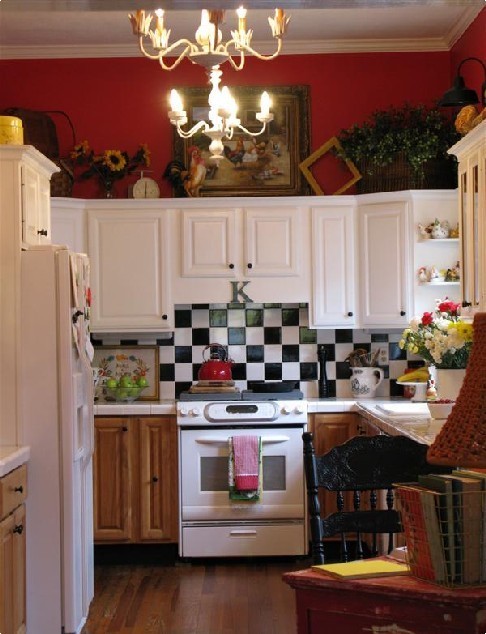 Charming kitchen.  Love the jet black chair and large black and white tile with touches of red sprinkled about.  Elegantly lighted by a vintage chandelier. Cottage decorating ideas can now include wood and white cabinets mixed together like this kitchen that pulls it together beautifully.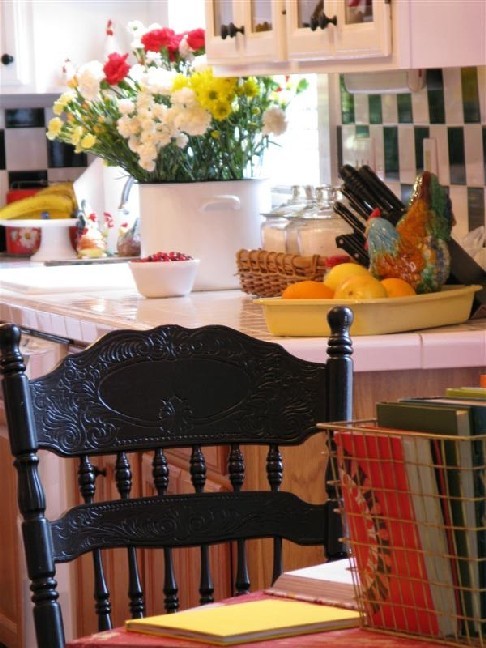 Close up of the wonderful black chair shows off its carved details.
Cozy home office.  I've always been afraid to paint a room red, but this one makes me brave for all the right reasons. Red and yellow together are also one of my favorite color combinations.
Love everything from the red Adirondack chair in the background to the turquoise iron patio furniture adorned by red and yellow.