Kitchen Pantry Ideas
I'm looking into some kitchen pantry ideas for my kitchen to make more room for pots and pans, storage containers, food, and big boy items like a 12 to 24 roll of paper towels and some of the midsize appliances like the crockpot.  Then, with moving these items to a pantry, it would free up room to better organize my kitchen cabinets.
We have a built-in buffet that I don't like. It is hard to organize, is old-fashioned, and this is where I want to put a kitchen pantry. What I really want to do is tear it open and bump the area out a bit into the garage and make a mudroom/pantry combination. That's my dream kitchen pantry project idea. I don't think we are ready to make that much of a change yet, so I am looking at kitchen pantry ideas.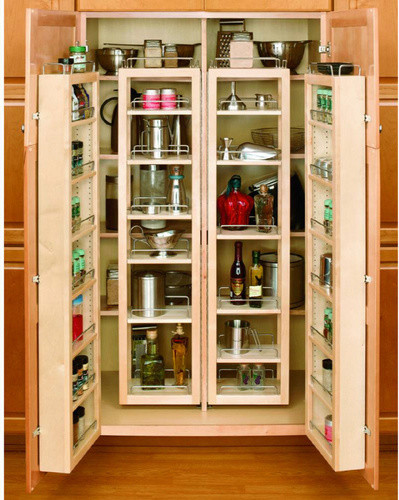 Photo via Houzz
We could buy a swing out unit or two of them.  This kitchen pantry is by Lowe's. Tim is handy and could install it himself. Houzz shows it to be 57″ high and costs $600.00.  My existing space where the buffet is could fit a couple of these swing out units.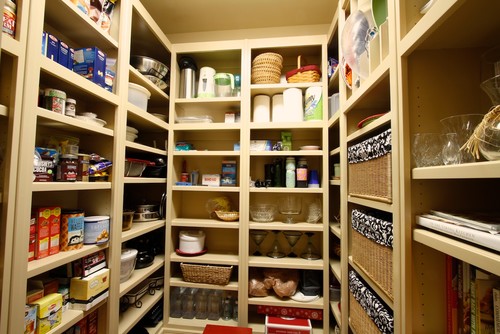 It would be so nice to have a large walk-in pantry like this one. A place for everything and then some. Even if we made one half this size it would be dreamy.
Houzz has a plethora of kitchen pantry ideas to inspire. I like how elegant this traditional style is with the doors that open up and drawers below, not to mention the beautiful light wood and lighting. Just beautiful.
This kitchen pantry is perfect for my idea to bump out the built-in buffet and replace it with a pantry.
Here are a few more kitchen pantry ideas:
Just gorgeous with curved shelving and walnut countertop.
Farmhouse style pantry with white cabinets. I can't tell by the photo but on Houzz it says the backsplash is subway tile which always looks beautiful.
One last pantry idea to share is this sweet Farmhouse style pantry. It is featured on Houzz in a Dutch Colonial home. A simple design with practical shelving and I love the room on the floor for baskets, the dog bowls, and a step stool.  
Visit my Kitchen Decor page for more inspiration.
You have to see Fun Retro Kitchens too.