I'm looking into some kitchen pantry ideas for my kitchen to make more room for pots and pans, storage containers, food, and big boy items like a 12 to 24 roll of paper towels and some of the midsize appliances like the crock pot.  Then, with moving these items to a pantry, it would free up room in my cabinets to better organize the dishes, and glassware.
We have a built-in buffet that I don't like.  It is hard to organize, is old-fashioned, and this is where I want to put a kitchen pantry.  What I really want to do is tear it open and bump the area out a bit into the garage and make a mudroom/pantry combination.  I don't think we are ready to make that much of a change, so I am looking at big and small kitchen pantry ideas.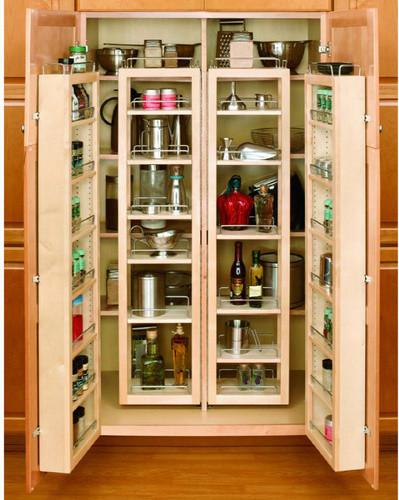 We could buy a swing out unit or two of them.  This kitchen pantry is by Lowe's.  Tim is handy and could install it himself.  Houzz shows it to be 57″ high and costs $600.00.  My existing space where the buffet is located could fit a few of these swing out units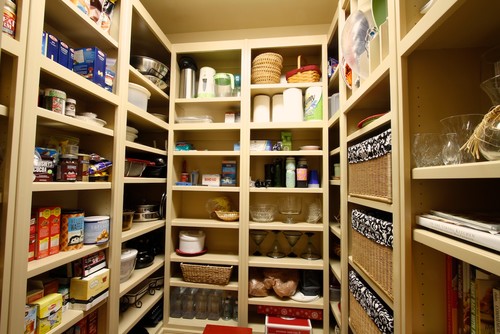 Ideally, a walk-in type kitchen pantry would be big time help.  The shelving looks like it would be simple to build and would provide oodles of storage.  It has a place for cookbooks, baskets, glassware, dishes, food, and one of my needs the paper towels.
This walk-in kitchen pantry has it all.  Room to store the cookie sheets and is a good blueprint for making our own walk-in kitchen pantry.

I like the look of this kitchen pantry with the shelf, pull out drawers underneath the shelf, and baskets under the drawers.
Here are shelves easily bought at Lowe's or Home Depot made beautiful by the paint color on the walls.    I could live with a kitchen pantry design like this.  Now that I have looked at kitchen pantries and posted it here, I think it will help to put a kitchen pantry on Tim's radar too.
Today I am happy because Tim made dinner in the crockpot and I am free as a bird to blog my day away.
It is 4 hours and 30 minutes until dinner is ready and 18 minutes until my reminder to do an errand.  It is nice to have dinner ready to go.  I always appreciate when someone else makes dinner, especially when it is my husband.
Concrete kitchen countertops like in the Mediterranean style kitchen below are steadily…
For Valentine's Day, here are pink retro kitchens old and new.  Trends…