Concrete Kitchen Countertops for Inspiration
Concrete kitchen countertops like in the Mediterranean style kitchen below are steadily becoming more popular.  Durable concrete kitchen countertops are versatile with options like stains, pigments, aggregates, and coatings.  They can be ordered in pre-casted sections which is the most common method, or poured on site.
Indestructible concrete kitchen countertops can get little tiny cracks from curing and settling.  No harsh chemical cleaners should be used on a concrete countertop.  Concrete countertops are sealed and can be ruined by surface cuts, hot pots and pans, and acidic foods.  Using cutting boards and trivets will reduce any damage.  I don't like all that care and concern, but then I realized you have to do the same for any countertop to keep it looking good.
The kitchen attributes above in addition to the concrete countertops are the cook-top, bowl chandelier, arched doorway, pendant lighting, and chair pads that match the concrete countertop beautifully.  Okay, I could be done cuz I am lovin this kitchen design.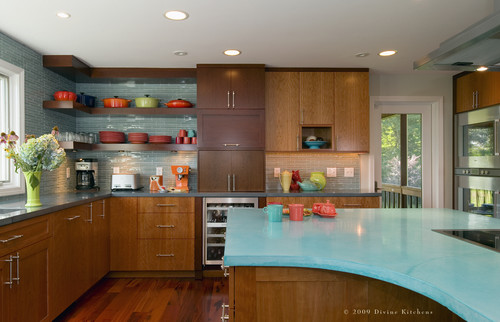 Looking at concrete countertops and learning how they can be stained to almost any shade makes for one-of-a-kind expression that no one else will be able to duplicate easily like these smack-dab turquoise-colored concrete countertops.  Would you think they were concrete at first glance?  Other attributes for this kitchen are the dark cherry veneer cabinets and then the open shelving with the colorful plates, pots and pans.  
Amazingly beautiful countertops in concrete.  But the backsplash is the standout.  It is glass wine-colored mosaic tiles.  
Other countertop material ideas are limestone, granite, marble, natural wood, stainless steel, and laminate.