Coastal Cottage Has Relaxing Beach House Decor
Coastal Cottage with Beach House Decor
Tour a coastal cottage filled with fun and relaxing beach house decor. It's a colorful coastal cottage named Fish Camp Beach Cottage and is in Florida. The cottage retreat was built to resemble old world historical Florida cracker style homes. It has a metal roof and a large porch with shutters that open and close. The inside is every bit as charming. It's full of casual beach house decor with popular vintage lighting.
The coastal cottage has 4 bedrooms, but the porch has room for sleeping too. Love the playful banister. The shutters and curtains close to protect from sun and weather. I just love this porch with the fan and lighting and perfect decorating with the wicker chair and bed.
Fun striped cafe curtains. First thing I noticed was the great vintage lighting and the blue trim and cabinet color.
Besides the colorful painted furniture, what makes this coastal cottage so great is the tall windows and french doors and the kitchen.
Just love the open shelving built into the windows. Never saw that before.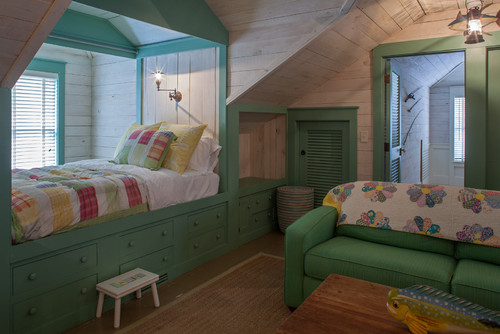 These yellow basins are vintage hospital stands converted for the bathroom.
I found this adorable coastal cottage on
Houzz
where you can see more photos and read about it including the house plans and paint colors.