Favorite Colored Kitchen Cabinets
FAVORITE COLORED KITCHEN CABINETS
What is your favorite colored kitchen cabinets? That is the question I asked in a poll at the bottom of my Colored Kitchen Cabinets post back in February of this year. The results are ongoing from this most popular post that keeps on giving like a Willie Wonka Everlasting Gobstopper. Today's post is about the results along with showing more colored kitchens for inspiration
Photo by Anthony Como of Luxe Interiors – More kitchen ideas
Surprisingly, the most popular kitchen cabinet color is Black. I was not expecting that. This is a more recent result because for many months Robin Egg Blue was the most popular color. I like these black cabinets for the lighted glass with crown molding and old world style. They may be a tad dark and moody for some taste, but not for me.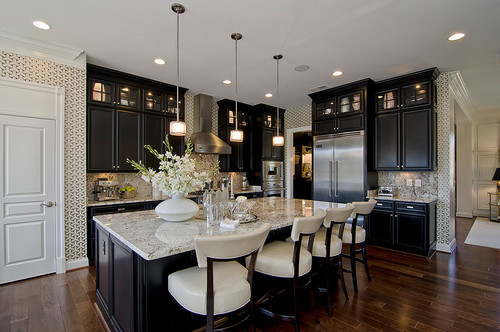 Photo by Maxine Schnitzer Photography – Search kitchen pictures
This kitchen also has the upper lighted glass cabinets with crown molding but is a brighter presentation. The chatter for this kitchen on Houzz is about the how much the white island stools are liked, the wallpaper, where can you get the cabinets, what color are they (I just think they are black), and the backsplash.
If black is your favorite color you are classy and perceived as powerful, highly sexy, but committed, emotions and feelings have great depth, and you can often be dramatic.
The poll in Colored Kitchen Cabinets is a little skewed because it doesn't include all the colors in the rainbow to pick from. In Colored Kitchen Cabinets, the question I ask is:
What is your favorite colored kitchen cabinet shown? Here are the results with the current votes tallied:
Black – 51
Robin Egg Blue – 49
Turquoise/aqua – 35
Cream – 28
Green – 25
Yellow -21
Red – 14
Pink – 2
Poor pink has only 2 votes. I admit my pink kitchen cabinet photo for the poll is not the best so it did not stand much of a chance. For this post, I am leaving pink out.
What about white? If I had put white in the lineup it would seem that it would be the most popular. Have you seen the mass amount of white kitchens pinned on Pinterest?
See more about this wonderful kitchen on my Elegant white kitchens post.
If your favorite color is white you are spiritually in tune and like peaceful surroundings.  You like things to be clean and precise and have a passion for truth and innocence.
Robin egg blue
is in 2nd place in popularity.  Blue is a top favorite color in general and means you are conservative and trustworthy.  You are patient, dependable, productive, and keep things clean and tidy.
 Turquoise is in 3rd place. If you love the color turquoise, you are friendly, caring and easy to communicate with.
Cream got 4th place, but if I had shown this kitchen maybe it would be in 1st place.  It's so warm with the wood floors and island and the brick wall and lighting. 
Green is 5th and darn hard to find.  I refer back to my original post which is a nice country kitchen.  Green is the color that is known to be relaxing.  You are generous, like nature, are lucky, but can have problems with envy and guilt.
Yellow is 6th place and these yellow cabinets and whole kitchen set up and decorating are a favorite of mine from a post I did about French Country Kitchens.
Is your favorite color yellow?  Then you are intelligent and charming, enjoy learning and sharing, but a tad too criticizing.  You are happy as sunshine, creative but also lazy.  Watch out for jealousy and dishonesty.
Red
is next at 7th place.  This kitchen is unusual with an old world lantern and then the Chinese flair in the upper lighted cabinets.
Red is the color of passion, energy, desire for life, strength, excitement, and risk taking.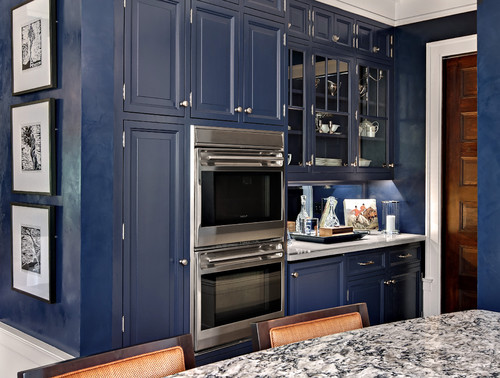 Introducing Dark Blue

.  
These incredible blue cabinets are from a renovation of a historic home built in 1899 -per Houzz and Karen Soojian the Interior Designer.
Dark blue and white, now I like that.  This chunky stand-alone island with posts looks like it is painted a faded denim blue.
Click to see more Kitchen Decor Ideas like
And did you see The Sweet Victorian Yellow House called "The Daffodil?"