Modern Storybook Country Cottage Lake House
Storybook Country Cottage
A modern storybook country cottage lake house in Wisconsin designed to look like it is from another time.  On Houzz it is Pawaukee Lake House by Degnan Design Builders who used "old techniques to create textures that just can't be replicated with modern methods" like thatched roof cottages. 
Almost every inch of this delightful storybook country cottage type lake house shows the most creative thinking I have seen yet!  Old time arched windows, 150 year old stained glass, gothic arches, and a liquor bottle mortared into the stone wall.  The exterior brick work is intentionally crooked to give that "this house has been added to over the centuries" look.  Or as the builder says "as if it was done by a drunken Irishman."  Who thinks of these ideas when building a new house?
Located in Wisconsin on Lake Pewaukee with solar panel power.  There are many old-world look country cottage roof lines with different materials including curved thatched shaped shingles looking like a Hobbit house.  It's everything a modern day storybook country cottage on a lake should have that no one thought of before!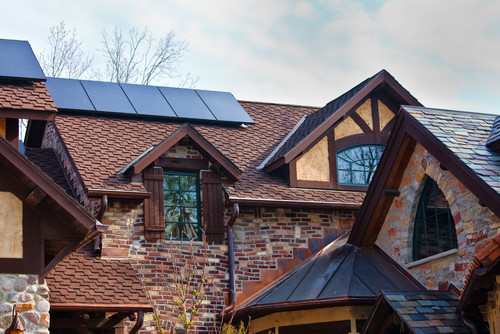 All photos:  
Eclectic Exterior
by Other Metro Design-Build Firms Degnan Design Builders, Inc
So much old-look, I am from another century, brick and stone work.  I love the church bell in the steeple.
The awesome liquor bottle encased in mortar by a very talented master of masonry.
The office with ancient stained glass window of Jesus.  The large wooden door is reported to be from a British prison.  Rope hanging down connects to the bell tower.
Uniqueness is everywhere.  Shelves in front of the window double as country cottage look open shelving.