Dining Room Project Step One is Painting
Dining Room Project
We are just beginning our dining room project.  We set out to repaint our dining room.  Like a lot of projects it has turned into a bear.  One lovely morning we had a thought to remove the popcorn type ceiling.  If you get thoughts like this, ignore them.
After watching a few YouTube videos it seemed easy enough.
Me: Let's just try a spot and see.
Me: Why did I say this out loud?
Fill a spray bottle with water.  Saturate an area and let it sit for a few minutes. Don't be impatient and let the water do the work for you.  The YouTube videos did not stress this, we found out by trial and error.  Grab an easy to hold wide drywall scraper and the layers of popcorn paint just scrapes off.
Have a plastic tarp underneath the area you are working on for easy clean up.  Wear a mask.  Close off the room from the rest of the house with plastic.
Preparation and clean up was almost as time-consuming as removing the popcorn paint.
Here's a look at my messy dining room project.
Enjoy this image of our dreadlocks of popcorn paint hanging off the ceiling.
Can you feel my pain?  Thank goodness we laid down a separate piece of plastic to catch the debris.  I may be slightly mad by the time we get done.
Dining Room Project:
We have patched and sanded the ceiling.
Sanded the walls.
Removed the dust from the walls and ceiling.
Before we paint I have to wash the walls with TSP.
I won't be hosting any dinner parties soon.
We've done so much extra prep work, I almost forgot what paint color I picked.  Meet Benjamin Moore Palladian Blue that reportedly changes colors depending on the light.  Palladian Blue is in the designer gray family.
We want to create an entryway.  Here are just a few examples of ideas we are considering that I put in my idea book on Houzz.  I also made a Secret Pinterest Board where I'm collecting ideas.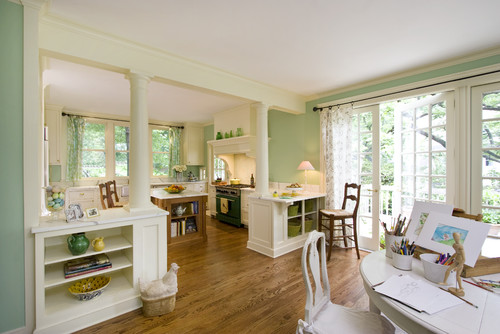 Wouldn't it be great if we build half walls and add columns?
My messy life.
Thinking of You.  I'm thinking of you getting up in the morning to order and beauty and a table and chairs.
There are so many things to get done now that it is nice out.  We agreed to paint the dining room.  Then build the entryway throughout the summer in-between everything else that needs to get done.
I called this Dining Room Project step one is painting because we are going to make an entry of some kind.  I also want to make a storage area along the far wall for coats, hats, and shoes that we hope to custom build.
Here are a few photos to update this Dining Room Project
After photo of the ceiling and walls painted Palladian Blue.
It has been some time since we started this project and here is a look at our progress so far.
See the continuations on Painting The Dining Room Plus Build an Entryway.
Our DIY Transom Window Entryway Idea and 
Feel free to contact me so I can feature your home projects or house.
Like this post?  Read more like it.
DIY A Cool Girls' Bedroom Design Idea Before and After Pictures
Bedroom Ideas by Interior Designers in Turquoise
Do It Yourself Decorating – New Orleans Style
White Painted Brick Exterior and a Shabby Cottage Chic Trailer