Custom European Manor Home Tour
Custom European Manor Home
A home called Rivendell Manor is a custom European Manor home design plan. The Academy Awards are on this Sunday night.  In honor of that, this is my award-winning Best In Show house.  The house features tray ceilings, an unusual tiled barrel brick bathroom ceiling, elegant lighting, beautiful windows and flooring, fireplaces, arched doorways, a fabulous kitchen, bathrooms perfectly tiled, and a lovely English country themed house exterior; all worthy of the awards given to this custom manor home. The house is both sophisticated and charming.
The adorable storybook whimsical cottage on the property is what initially caught my attention. Then, I saw the main house and found out the cottage was a guest house and just the beginning. The guest house cottage has a front porch, kitchen, vaulted ceiling living room area, bathroom, and attached shed that is guest house envy. I am disappointed there aren't any interior photos for the cottage though.
The stone work on the cottage and main house is beautiful.
Paver brick driveway and walkways.
The Rivendell Manor home was built for the 2012 NW Natural Street of Dreams in Portland, Oregon. It won five awards including Realtor's Choice Best of Show.
Applause please for the entrance, but wait until you see the rest of the home.
Award winning fireplace design.
Such an elegant dining room with tray ceiling and I like the mixture of the chairs.
Now here comes my favorite, the kitchen.
This little drop down yellow table and 2 wrought iron chairs deserve a special nod and walk down the red carpet for kitchen design.
Staging award for the yellow table, bright green placemats, dishes, and glassware.
I love this scene. Plenty of counter space below the window and I love the cubby hole drawers and wall tile.
Here is the tiled barrel ceiling I mentioned. It looks like the faucet and knobs are built into the mirror. Technical difficulty award!
Amazing master bedroom fireplace design.
Master bathroom.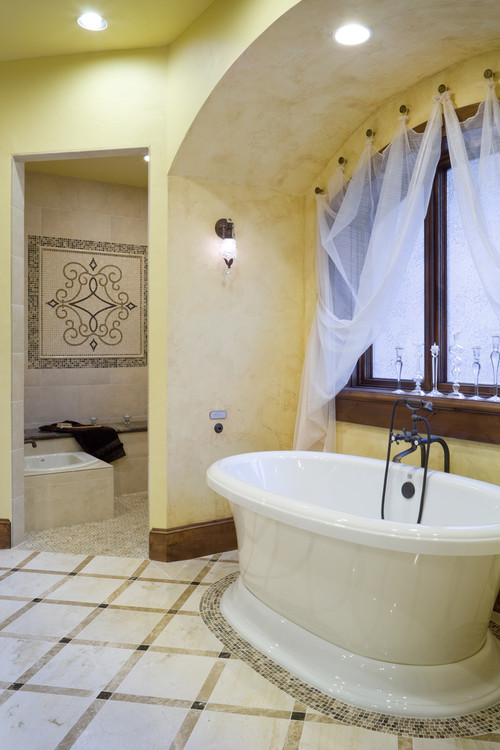 I like the paint design surrounding the free-standing tub and soft white gauze curtains on the windows.  Set decoration award!
Fabulous children's bedroom design with built-ins around the window and a window seat.
This award-winning home was constructed by BC Custom Homes and designed by
Alan Mascord Design Associates
.  There are more photos of the rooms in this European Manor home to see on Houzz 
here.
All photos are by Bob Greenspan.
See more like it!