Craftsman Style Home 2Scale Architects
Craftsman style home designed by Greg Swedberg of 2Scale architects reminds me a little of an Airplane Bungalow.  I just love Airplane Bungalows.
This beautifully designed Craftsman style home has an wonderous inteior floor plan. The exterior front and side porch, railing, and pillars trim the home flawlessly. Pure craftsman style home interior with a simple tasteful fireplace.  Yellow and white inviting kitchen and plenty of interesting built-ins in unexpected places.
I am excited about it even more for the staircase, coffered ceiling, and half wall pillars!
Older craftsman style homes of course have wood trim, stairs, and shelving.  Following today's trends, this craftsman style home called Allston Residence has an open, airy and bright white interior.  Designed for Allergo Builders, the designer left to start his own architecture practice, 2Scale Architects.
The home is decked out for Christmas which is not far away.  Enjoy the new style Craftsman home tour.
The iron fence is made from old railway ties crafted by an iron fence professional.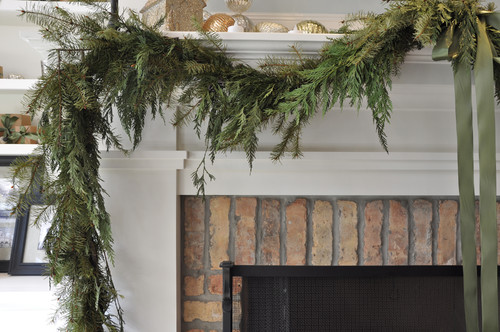 I dote on simple brick fireplace designs.

Yellow and white kitchens beam morning joy.
N
ifty built-ins tucked into the half walls.
P
erfectly constructed staircase ends the Craftsman style home tour.  This is a custom home in Houston, Texas with great street appeal. 
See more like it!
Here are a few other homes you may like: